From €349

Last Minute Ski holidays from €349 per person. Flights direct from Ireland all with free baggage allowance and hand-picked accommodation. Limited availability!


Save up to €150

Save up to €150 per person off your summer 2018 holiday to Italy. Limited availability.


From €1,099

Contact Topflight's Cruise Experts Today and Let Our Experience Help You Choose The Perfect Cruise, Whatever the Occassion.
• TRUSTED BY IRISH HOLIDAYMAKERS FOR OVER 40 YEARS • FULLY LICENSED & BONDED • 100% IRISH OWNED • MULTI-AWARD WINNING •
"I just wanted to write to thank all at Topflight for the brilliant skiing holiday we had last week. Your rep in Kirchberg John is lovely and everything was really well organised for us! You couldn't get lost if you tried!"

Well Done!
Sara Egan
Kirchberg, February 2014

"The two reps in Soll were very helpful to me and my family, made my week run smooth, they helped us to get the most out of our week, first time in Austria and loved it. Soll has good places to eat and have a few beers cannot wait for next year."

Kieran, Co. Limerick
Soll, January 2014

"Excellent help from Topflight team before going on trip. First family ski holiday, kids loved it and would definitely return."

The Fox Family, Co. Armagh
December 2013

"We returned from Westendorf, Austria. Many thanks for a fabulous holiday. We really enjoyed it! The ski school, ski hire and skiing area were very good. The staff at the Jakobwirt were very friendly and the standard of food and accomodation was excellent. Thanks again!"

Sean & Attracta Williams, Co Clare
March 2014

"My family and I would like to say a big THANK YOU for a wonderful holiday. Every detail was perfectly planned and organised and we didn't have to worry about a thing. Thanks for organising a truly memorable adventure for us all"

The Nutley Family
Bad Hofgastein, February 2013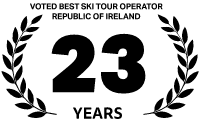 At Topflight we relentlessly strive for perfection when it comes to our holidays. In an amazing vote of confidence, The Irish Travel Trade have voted Topflight Holidays, the number 1 Ski Tour Operator an amazing 23 times.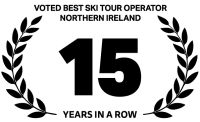 We have also been voted Best Ski Tour Operator for 15 years in a row from Northern Ireland. It is both an honour and a privilege to receive these awards.
By Phone
00353 (0)1 240 1784
By Email
sales@topflight.ie
Via Travel Agent
Opening Hours
Mon-Fri 08:30 a.m. - 6 p.m.
Sat 10 a.m. - 2 p.m.