• TRUSTED BY IRISH HOLIDAYMAKERS FOR OVER 40 YEARS • FULLY LICENSED & BONDED • 100% IRISH OWNED • MULTI-AWARD WINNING •
Sandra Hughes always puts together our tailor-made holidays to perfection. She is a gem."

Dermot Fagan, Co.Dublin
Twin Centre Tuscany & Puglia, June 2018

"100% Happy with Topflight. Jonathan Howitt was great. We are a family of five and he found us the perfect Cruise on MSC. He spent time looking and gave us a few options, he was great, a real professional and also a lovely person to deal with."

Karen Cahill, Co. Dublin
Mediterranean, Cruise MSC Seaview

"100% Happy with their service. Jonathan Howitt was great. We are a family of five and he found us the perfect Cruise on MSC. He spent time looking and gave us a few options, he was great, a real professional and also a lovely person to deal with."

Lisa Egan, Co. Mayo
Twin Centre Tuscany & Puglia, June 2018

"Excellent value throughout the trip. Great excursions. Top rate train & transfers Couldn't fault any aspect of the whole trip."

Sean Stephens, Co. Dublin
Mediterranean Cruise MSC Poesia

"Jonathan, Thank you so much for organising our cruise. It was just perfect, everything went like clockwork. We really enjoyed our holiday and thanks also for the welcome home note!"

Catherine & Brendan Johnson, Sligo
Celebrity Cruise, November 2017

"Delighted with our holiday, will use Topflight again"

Sandra McInerney, Co. Tipperary
Venice, June 2018

"Hi Jonathan, Just back from our cruise, and what an amazing time we had. Thank you so much for putting it all together for us, we cannot recommend you and Topflight enough. Thanks"

Con Healy, Cork
MSC Cruise, January 2017

"I would like to thank you and all the team at Topflight for helping us organise a wonderful cruise with Royal Caribbean. Everything went so smoothly from arriving at Dublin airport to our return home from Barcelona. The cruise on the Rhapsody of the Sea was brilliant, we really enjoyed it and we will definitely be going on another cruise. Once again thank you for such a professional service from start to finish.

I would like to thank you and all the team at Topflight for helping us organise a wonderful cruise with Royal Caribbean. Everything went so smoothly from arriving at Dublin airport to our return home from Barcelona. The cruise on the Rhapsody of the Sea was brilliant, we really enjoyed it and we will definitely be going on another cruise."

Helen Mercer, Co.Meath
Royal Caribbean Eastern Mediterranean Cruise, October 2017

"I returned from a very enjoyable holiday in Maoiri, Italy last Sunday which I booked with your Company through Angela and wish to take this opportunity to compliment her on her handling of our above described booking, she was so professional and efficient in the exercise of her duties. Our booking was not straightforward and involved additional planning, she very kindly helped to sort out the details which was a great comfort to me and my party."

I have not availed of a package tour for a number of years but in view of my experience with Topflight on this holiday have decided it is the only way to travel. I would sincerely hope should I go on a Winter holiday skiing in Italy with Topflight to have Paola as my Courier. and look forward very much to meeting her on my next trip to the Amalfi coastline.

Geraldine FitzGerald, Co.Dublin
Hotel Reginna Palace, Maiori, Amalfi Coast, August, 2017

"Can I just take this opportunity to thank you guys at Topflight for allowing me to book a surprise honeymoon for my husband and I so easily!

Hotel Bristol looks amazing too and no doubt they will make our stay there super special and memorable! I've 4 friends - two couples looking to see how we get on on our trip and they are hoping to do their next holiday booking our trip, one for an anniversary trip, the other a honeymoon.

Thanks again and I really look forward to book our honeymoon part 2 with you guys later in the year/early 2018, I'm converted from booking flights and accommodation separately from my experience booking our holiday with you.

Breda Flaherty, Co. Limerick
Breda stayed at the 4 star plus Hotel Bristol, Sorrento, August, 2017

"It's paradise - and parents can come too. The Italian eco resort of Paradu is a woodland gem nestled by the sea, just an hour south of Pisa airport and a stone's throw from beautiful sandy beaches."

Sophie White - Sunday Independent
Paradu Tuscany Eco Resort - May 2017

"Fabulous holiday! Service, hospitality and enthusiasm of reps, guides, hotel staff and locals was exceptional and made our visit even more special and memorable in addition to the spectacular destination. Thank you and we can't wait to return!"

Mr Marc Casey, Co. Antrim
Marc enjoyed the Sorrento, Amalfi Coast, Pompeii & Vesuvius Tour staying at the 4 star Hotel Bristol, June 2017

"I stayed at the Splendid Palace Hotel, Limone. The Topfllight rep, Karen was amazing, her knowledge of the local area was outstanding. Karen went over and beyond to help us and because of her professionalism we will most definitely be booking with Topflight in the future, she is an absolute credit to Topflight, thank you Karen."

Mr Roger Bacon, Co. Antrim
Roger stayed at 4 star Hotel Splendid Palace, Limone, Lake Garda June 2017

"Excellent service in every way. Karen was extremely well informed and could answer all my questions. She looked after us very well. Excellent accommodation and a wonderfully 'uncomplicated' restful holiday... to be repeated!"

Ms Maureen Maybin
Maureen stayed at the 4 star Hotel Garda, Riva, June 2017

"We were more than impressed with Lorna, a wonderful 'ambassador' for Topflight. She is the best rep we have ever had the good fortune to meet. I never realised how important it is to have someone nearby, who is so re

Ms. Angela Farrell, Co.Clare
Angela stayed at the 4 star Hotel Conca Park, Sorrento June 2017

"This trip and everything about it was excellent from beginning to end. It was our first trip out of the country in eleven years and it meet every dream and expectation we had, to a beautiful part of the world with a superb tour operator. The hotel staff and the hotel itself was fantastic. Well done everyone and thank you all so much (go raibh míle maith agaibh go léir) for the memories. "

K & D Kennedy
The Kennedy's stayed at the 4 star plus Hotel Bristol, Sorrento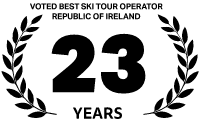 At Topflight we relentlessly strive for perfection when it comes to our holidays. In an amazing vote of confidence, The Irish Travel Trade have voted Topflight Holidays, the number 1 Ski Tour Operator an amazing 23 times.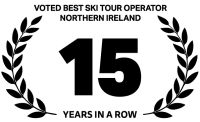 We have also been voted Best Ski Tour Operator for 15 years in a row from Northern Ireland. It is both an honour and a privilege to receive these awards.
By Phone
00353 (0)1 240 1784
By Email
sales@topflight.ie
Via Travel Agent
Opening Hours
Mon-Fri 08:30 a.m. - 6 p.m.
Sat 10 a.m. - 2 p.m.