This page outlines the current travel advice which we will keep updated to ensure that you have the latest information at time of booking or time of travel.
We know that with things being as uncertain as they are right now, you may not want to commit fully just yet, so for your own peace of mind and reassurance, we have our Book with Confidence Guarantee meaning that you can book now and pay later, change your mind up to 28 days before travel and book with confidence with our Covid protection complimentary travel insurance.
All travellers are required to adhere to the public health advice and to not travel if they themselves have any Covid-19 symptoms, have been in close contact with a confirmed case, or have been advised to restrict their movements by a medical professional.
If you have any questions or concerns which are not addressed below, our reservations team will have the most up to date information and will be able to guide you through the travel process. We are contactable on 01 240 1700 or from Northern Ireland 028 2108 0007 from Monday to Friday, 9:00am to 5:30pm. Please feel free to get in touch.
Dublin airport.
At the Airport.
By following the guidelines outlined, we can ensure a safer travel experience for everyone.
Use face coverings at all times if possible
Ensure that you keep hands clean by washing or using hand sanitiser
Enter the airport with only those you are travelling with
Maintain a social distance throughout your time in the airport
Check-in online if possible, to avoid unnecessary contact
Ensure that you follow the social distancing guidelines in the retail units and restaurant. Where possible, pay by contactless card.
We advise you to use the 20kg baggage allowance provided and minimise the use of hand luggage. Please only bring essentials like medication, necessities for children, cash and travel documents on board in a small piece of luggage which can fit under the seat in front of you

For the most up to date information on our partner airports please see:


Belfast International Airport Cork Airport Dublin Airport
Remain seated for the duration of the flight where possible.
Your Flight.
As with all aspects of the holiday experience there will be changes to boarding procedures and indeed on board your flight. In general there will be staggered boarding in small groups. Currently this will see rows in the centre of the aircraft fill first and then work out from the middle towards the front and back of the aircraft. All aircraft used by our airline partners are already installed with high efficiency particulate air (HEPA) filter systems with vertical air flow which provide fresh air quality during the flight.
For the duration of the flight, you should:
Remain seated as much as possible. If you need to use the bathroom facilities, please advise a member of staff before leaving your seat
Follow instructions and guidance from crew
Use contactless payment where possible
Be aware there is likely to be a reduced food and drink service
Customers and crew will be required to wear face masks on board all aircraft (except for eating and drinking)
Alert the cabin crew if you become unwell during the flight
Each airport will be adhering to the highest levels of safety.
Arrival At Your Destination.
All airports will have slightly different protocols, but each will be adhering to the highest levels of safety to allow you to travel with confidence.
Changes will include:
All passengers and staff will be required to wear masks at airports - these will be available at the terminal if required, however we would suggest that you bring your own with you
Hand sanitiser dispensers for passengers positioned throughout the terminal
Social distancing measures and clever queing systems to improve customer flow
Increased use of plexiglass screens throughout the airport
The installation of baggage tunnels with UV technology
Disinfectant for trolleys, wheelchairs and security trays with UV technology
Thermo scanners will be used at the main terminal entrances
Airports will have medical staff on hand should someone feel unwell and need to seek medical advice
Some destinations will also require visitors to register in advance of their visit.
Transfers to Resort.
As with all other aspects of the travel experience you will notice improved safety and social distancing on your transfers. Changes will include:
Increased hygiene procedures on board transfer buses and an increased offering of private transfers
Every surface in our transfer buses or taxis will get a daily deep cleaning and cleaning between each journey if the vehicle is used by a different passenger or group of passengers
Each person will have an assigned seat on a transfer bus which will be configured in a socially distanced manner
Hand-sanitizer will be required as you board the bus or taxi
Facial coverings will be required while on-board
There are strict cleaning and hygiene standards in place.
Your Accommodation.
We've always carefully selected our accommodation partners for their high standards. They are currently working on and adapting their measures to optimise health, safety and cleanliness procedures, as well as creating additional measures for social distancing. They are working in line with their national government guidance and as a result, below are a selection of the measures that are in place. This is an outline of the more general new safety procedures that you can expect.
Increased hygiene and cleaning standards in all accommodations. All staff will have untaken training in the new procedures
Hand sanitizing gel dispensers in common areas
Plexiglass screens at some reception and bar areas, sometimes also with staff using face coverings behind the screens or if no screens always using face coverings
Daily deep cleaning and disinfecting of all surface areas inside bedrooms and apartments with extra cleaning on light switches, door handles, TV remotes etc
Increased frequency of cleaning and disinfecting of all public areas and all surfaces in public areas. This might include the closure of public spaces such as gyms, bars and restaurants. We will do our utmost to advise you in advance of your holiday if we are aware of any closures within your choosen hotel
Restaurant tables will be spaced out according to socially distanced regulations in that country or region. Meals will be served either A la carte or as a served buffet style. The buffet style format will operate where you choose what you want and the staff member will put your choosen items on the plate for you. All guests and staff wear masks in dining areas. You can only remove your mask once you are seated. Dining times may also need to be pre-booked depending on the size of the hotel and the size of the dining area
Hotel bars and bars are operating with table service only
There will be a higher use of QR codes for menus or lists of spa treatments to avoid re-usable documents
If it is possible there will be increased outdoor socially distanced seating in gardens, terraces and courtyards
Swimming pools will be open according to current regulations and sunbeds will be sanitised regularly
Bed & bath linen will be washed at 90 degrees
In larger hotels the main entrances to the common areas are monitored by thermal imaging cameras that continuously measure the temperature of all guests and staff on duty without being invasive
Each country has their own guidelines in terms of social distancing. For example in Italy a distance of at least one meter from other people is to be observed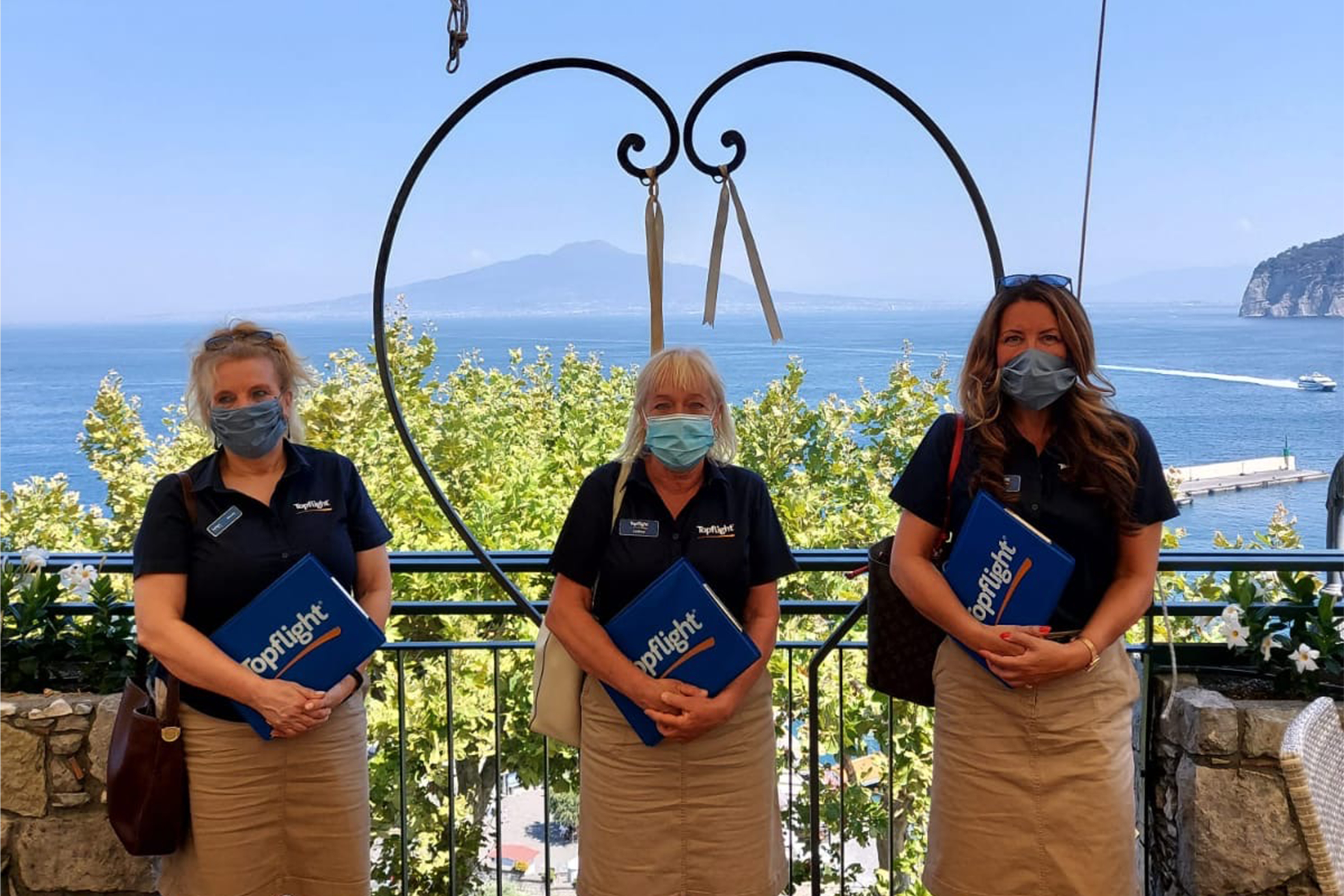 Our team are with you all the way.
In-Resort Support.
As always on the ground support is an integral part of any Topflight holiday and one which we know that you appreciate and value. We will currently operate with 24/7 support from our overseas concierge. Throughout the duration of your stay our Overseas Concierge is on hand to ensure that you have all the information and assistance that you need. Contactable 24/7, they will be in touch before you travel and will contact you at each point in your journey to make sure that everything runs just as smoothly as possible.
In some of our featured resorts, should you desire we can arrange for a member of our in resort management team to meet you at your accommodation in a socially distanced manner. Our team on the ground have first hand knowledge of things like pre-booking restaurants, guidelines on how public transport is operating and any additional protocols in regard to retail areas.
Returning Home.
In advance of your arrival back in Ireland, you are asked to fill out a passenger locator form as a precaution, to aid any potential contact tracing.
Arrivals in the Republic of Ireland
The form for those returning to the Republic of Ireland must be filled out online within 48 hours of arrival at the airport. One form should be completed for each person aged 16 or older. Details of children under the age of 16 should be included on a form completed by an accompanying adult. Once completed you will receive an email confirmation that the form was completed. This email may need to be shown to passport control on arrival. This 'Covid-19 Passenger Locator Form' and further details can be found here.
Arrivals in Northern Ireland
The 'Public Health Passenger Locator Form' and further details for those returning to Northern Ireland can be found here. You must complete this form online before you arrive in the UK from any country. This includes if you're travelling from a country or territory where you do not have to self-isolate when you arrive in the UK. The form cannot be submitted until 48 hours before your arrival time in the UK. On arrival in the UK, you will have to show the completed form, either by printing a copy or showing it on an electronic device. Each passenger needs to complete a form, except for children under 18 years old whose details can be added to the form of an adult they're travelling with. Failure to comply is a criminal offence.
When you're ready to start thinking about your next journey, we're ready to listen, advise, recommend and share our passion. Our appetite to help you see fantastic destinations, is as strong as ever. Likewise, if you have any concerns about the safety aspects of an upcoming or future trip, please speak to us and we will endeavour to put your mind at rest. The safety measures will continue to evolve and we will roll-out these and additional policies as needed. We look forward to having you travel with us again.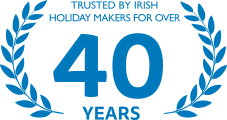 40 Years Experience
Proudly serving Irish holidaymakers for over 40 years, delivering only the best quality & value to our clients.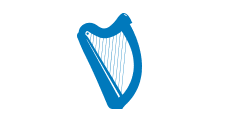 100% Irish Owned
We are 100% Irish owned and proud of it. We truly understand what's important to Irish clients like no one else can.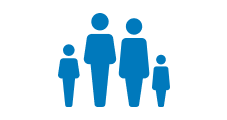 Family Owned & Operated
Topflight is a family run company, and as a family, we know what it means to get the family holiday right first time.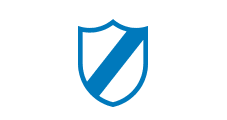 Your Family, Protected
We take your trust in us very seriously. For your protection all of our package holidays are 100% protected.