• TRUSTED BY IRISH HOLIDAYMAKERS FOR OVER 40 YEARS • FULLY LICENSED & BONDED • 100% IRISH OWNED • MULTI-AWARD WINNING •
"A great holiday and excellent value for money. Many thanks to Marie for being such a great rep always very helpful and available."

Thomas Wylie, Londonderry
Thomas stayed at 3* Hotel Alaska, Livigno, Italy March 2017

"Huge compliments to Joe (Cummins), Joe is an excellent ambassador for both Soll & Topflight. He is a smart & obviously well travelled guy, very knowledgeable & helpful, from our first meeting at the airport and throughout the week in resort. Joe is a great asset to Topfight! Please pass on our compliments & appreciation."

Jacqueline Horan, Dublin
Jacqueline stayed at 3* Hotel Garni Schonblick, Soll, Austria March 2017

"It's paradise - and parents can come too. The Italian eco resort of Paradu is a woodland gem nestled by the sea, just an hour south of Pisa airport and a stone's throw from beautiful sandy beaches."

Sophie White - Sunday Independent
Paradu Tuscany Eco Resort - May 2017

"Fabulous holiday! Service, hospitality and enthusiasm of reps, guides, hotel staff and locals was exceptional and made our visit even more special and memorable in addition to the spectacular destination. Thank you and we can't wait to return!"

Mr Marc Casey, Co. Antrim
Marc enjoyed the Sorrento, Amalfi Coast, Pompeii & Vesuvius Tour staying at the 4 star Hotel Bristol, June 2017

"I stayed at the Splendid Palace Hotel, Limone. The Topfllight rep, Karen was amazing, her knowledge of the local area was outstanding. Karen went over and beyond to help us and because of her professionalism we will most definitely be booking with Topflight in the future, she is an absolute credit to Topflight, thank you Karen."

Mr Roger Bacon, Co. Antrim
Roger stayed at 4 star Hotel Splendid Palace, Limone, Lake Garda June 2017

"Excellent service in every way. Karen was extremely well informed and could answer all my questions. She looked after us very well. Excellent accommodation and a wonderfully 'uncomplicated' restful holiday... to be repeated!"

Ms Maureen Maybin
Maureen stayed at the 4 star Hotel Garda, Riva, June 2017

"We were more than impressed with Lorna, a wonderful 'ambassador' for Topflight. She is the best rep we have ever had the good fortune to meet. I never realised how important it is to have someone nearby, who is so re

Ms. Angela Farrell, Co.Clare
Angela stayed at the 4 star Hotel Conca Park, Sorrento June 2017

"This trip and everything about it was excellent from beginning to end. It was our first trip out of the country in eleven years and it meet every dream and expectation we had, to a beautiful part of the world with a superb tour operator. The hotel staff and the hotel itself was fantastic. Well done everyone and thank you all so much (go raibh míle maith agaibh go léir) for the memories. "

K & D Kennedy
The Kennedy's stayed at the 4 star plus Hotel Bristol, Sorrento

"This trip and everything about it was excellent from beginning to end. It was our first trip out of the country in eleven years and it meet every dream and expectation we had, to a beautiful part of the world with a superb tour operator. The hotel staff and the hotel itself was fantastic. Well done everyone and thank you all so much (go raibh míle maith agaibh go léir) for the memories. "

K & D Kennedy
The Kennedy's stayed at the 4 star plus Hotel Bristol, Sorrento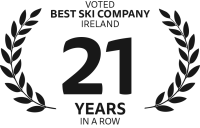 At Topflight we relentlessly strive for perfection when it comes to our holidays. In an amazing vote of confidence, The Irish Travel Trade have voted Topflight Holidays, the number 1 Ski Tour Operator for an amazing 21 years running.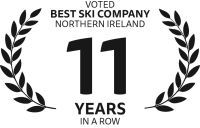 We have also been voted Best Ski Tour Operator for 11 years in a row from Northern Ireland. It is both an honour and a privilege to receive these awards.
By Phone
00353 (0)1 240 1784
By Email
sales@topflight.ie
Via Travel Agent
Opening Hours
Mon-Fri 08:30 a.m. - 6 p.m.
Sat 10 a.m. - 2 p.m.